We are an Acupuncture & Chinese medicine team (both in work & family life) with thirty years combined experience to bring you the most comprehensive Chinese medicine health service in the Fleurieu community.
Along with managing your current health concern, we place an emphasis on education & preventative medicine to keep you healthy & flourishing.
Lori-Ellen and Lez met in Sydney both studying their Masters in TCM. Both practitioners have a thorough understanding of musculoskeletal disorders with biomedicine training enabling them to utilise 'dry needling' with traditional Chinese medicine practise. Together they have a wide range of skills to cover general health including; neurological disorders, chronic and acute injuries, women's health (Lez) and women's health (fertility, pregnancy, menopause & paediatrics) along with a special interest in back pain (Lori-Ellen).
Lez is also a trained counsellor and Lori-Ellen is an avid researcher, writer and lecturer (teaching undergraduate and postgraduate students for ten years & publishing academic papers).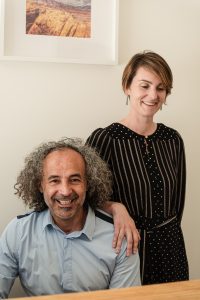 Our vision of a healthy and flourishing community in the Fleurieu is informed by;
Effectiveness | Diversity | Education | Personal Responsibility | Integrity